By Greg Steinmetz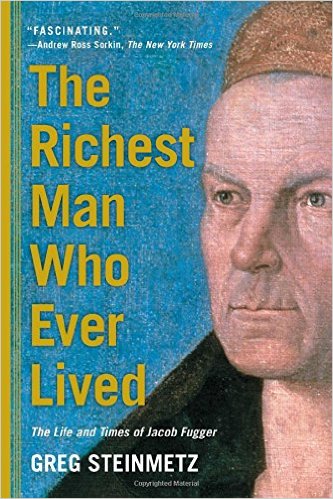 Before I read this book, I might have had a couple of guesses at the richest man who ever lived; but I wouldn't have guessed Jacob Fugger. The author makes the assertion based comparing a person's net worth to the size of the economy he operated in. By this measure (his net worth at about 2% of European economic output), Jacob Fugger, who died in 1525 in Augsburg Germany was the richest man who ever lived.
While much has been written about him in German, this book is the first significant biography of this fascinating and influential man written in English.
Just how fascinating is this fellow?
He was born the grandson of a peasant, yet through skills, insight, fortitude and the ability to see opportunity, he became arguably the most influential banker ever. For example:
He persuaded the pope to lift the ban on charging interest for lending money.
He financed wars, including the German Peasant's war – the first between the ideas of capitalism and communism.
He likely funded Magellan's voyages around the globe.
He was the first to use auditors of his branch offices.
And much more.
I knew very little about this man before I began this book. Through this well-written biography, I know more about the founding of capitalism, European History, and have insights into leadership that I doubt I could learn in the same memorable ways from studying a different (or more contemporary) person.
This book is fascinating, enjoyable, and if you choose it to be, practical in your study of leadership (though you don't have to read it with that filter to enjoy it).
While this is different in topic than most anything I have recommended here, it gets my hardy and full recommendation.