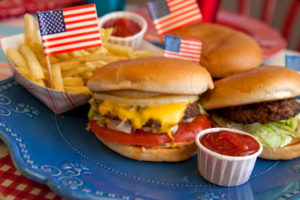 Tomorrow is the Fourth of July, and in the United States, that means fireworks, parades and crowds of people wearing red, white and blue.
Additionally, a good percentage of Americans will celebrate the 4th of July tomorrow by hosting or attending a cookout, barbecue or picnic. And most will overindulge in food and fun.
As with most things, I can't help but reflect and pull valuable lessons from the upcoming festivities:
People too often over-fill their stomachs but starve their minds
People far and wide will stuff their bodies with burgers, dogs and sides of all sorts tomorrow. As you enjoy your 4th of July food, remember this: Your mind needs nourishment at least as much as your body needs food. Are you putting in enough time, thought or effort into feeding your mind? Or are you are neglecting your growth and learning?
Lesson #1: You should be feeding your mind everyday so that you can work at peak performance.
People plan more for parties than they do for their careers 
People plan for their festivities, trying new recipes, sending out invitations, decorating and more. They shop for the perfect outfit and make arrangements with family and friends well in advance. Some will spend more time planning for their celebration than they will planning for work.
Lesson #2: Planning is important, and while there is nothing wrong with planning a great party, how about using some of those planning skills to plan for work? Even just 20 minutes at the end of each day to create a plan for the next day can drastically improve your productivity and ensure that you meet your goals.
Enjoy your 4th of July party (or whatever party you next attend), and while you are there, think about those two lessons. Let them remind you to do a bit more planning and to fill your mind with knowledge that will take your career to the next level.