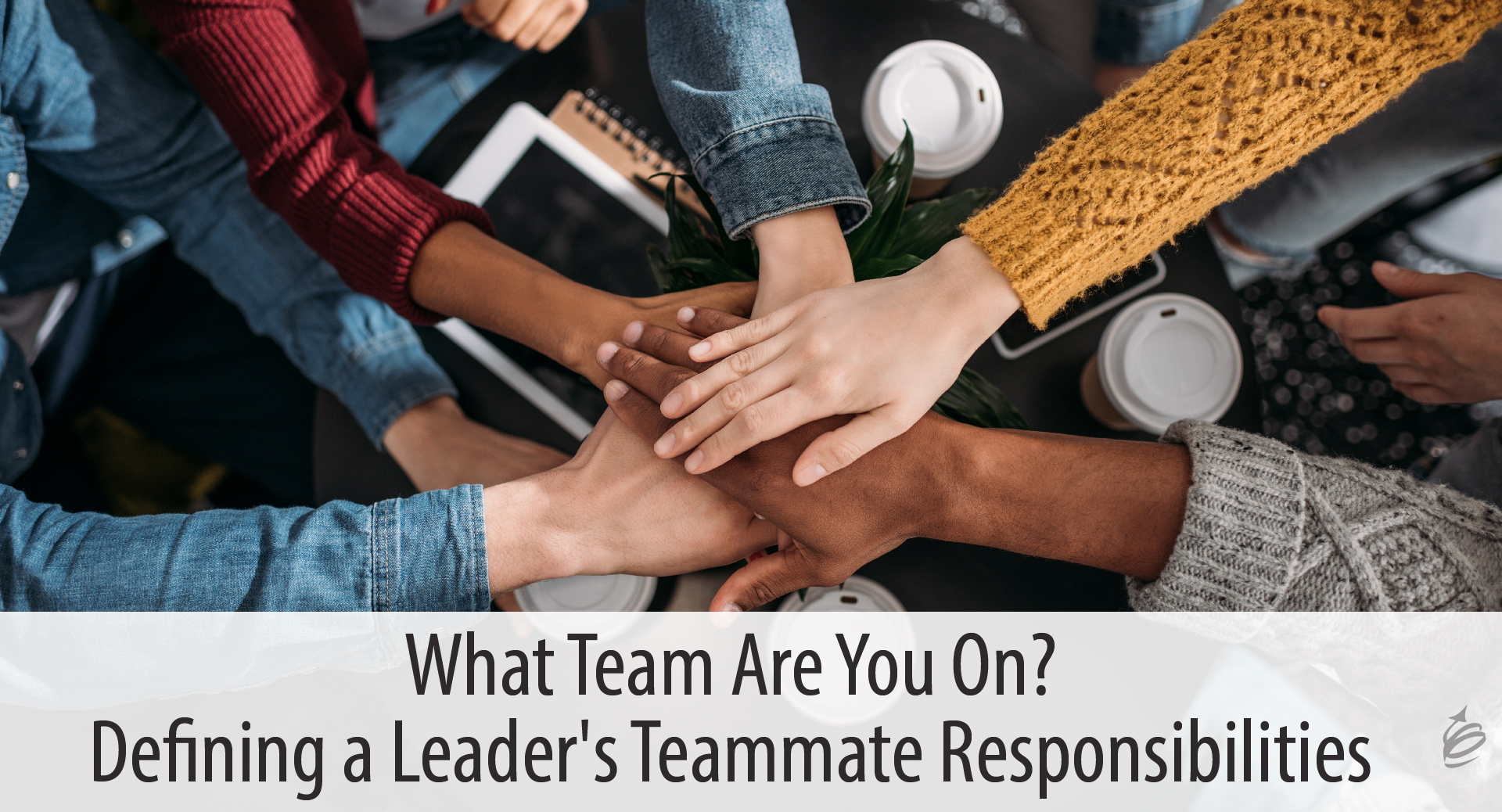 Most leaders think of their job as that of leading. They have a responsibility for helping that team reach their goals. They have expectations placed on them by the organization to manage and lead. But leaders are teammates too. They are likely on at least two teams – the team of their peers and the team they lead. In this article, we are exploring a leadership role most don't consider – the leader as a teammate.
Are You a Member of the Team You Lead?
Yes you are.
As the leader you have a very specific role on the team, one that for the most part is defined and understood.  And because of your position, there is a power differential between you and the rest of your team.  Because of this, leaders often mentally separate themselves.  They talk about "my" team, rather then "our" team.  In ways subtle, and sometimes quite obvious, they set themselves apart.
Everyone has roles to play on the team, as a leader you play one of those roles. In fact the job title doesn't even mean you are the only leader, or the leader in every situation.
The more important question is, what does being a member of that team look like when you are the boss?
Here is a short list:
Participating, not prescribing.
Engaging, not distancing
Deliberating, not deciding
Asking, not telling
It means:
Offering to help
Building relationships and trust
Going the extra mile for a teammate
If you lead a team of sub-contractors on union represented employees there may be some other differences.  While observing contracts and laws, you can still feel and be seen by others as a part of the team, while maintaining your prescribed role.
The Team of Your Peers
Being a part of this team may come easier to you – after all, you were on teams before you became a leader.  Anytime you put a group of people together power struggles and conflict will likely occur – it is often more true with a group of leaders.  If you want to be effective part of this team – leave your ego at the door.  Do the things we've just talked about.
Of course, you should advocate for your position and the good of your "other" team but do that in a way that helps the team succeed.
Do What You Want Your Team to Do
If you want to be a more effective team member, whatever team you are on, it means behaving in the ways you would want your team members to behave. We are often told as leaders we should be role models – that idea applies to us as team members too.
Leader as teammate.  As a leader it is one of your responsibilities, whether you think about it or not.  I hope that this short article challenges you to think about that role more and encourages you to be more intentional and effective as a teammate, not just a boss.
….
Leading and participating in a team right now remotely? We are helping all teammates deal with the challenges of working remotely during the uncertainty and rapid change of a global pandemic. Join us starting April 7 for our Remote Work Mini-Webinar Series. Four mini-webinars, each with just 20 minutes of targeted content (and time for a short 10-minute Q&A).
No generic content, no repurposed content from a long-standing, face-to-face workshop. All new content to help you thrive as a remote team and remote worker now – in April of 2020 – with everything that is going on around you. And after the four mini-webinars spread across about a week, the chance for a live Q&A with both Wayne Turmel and me –cofounders of the Remote Leadership Institute, and the co-authors of The Long-Distance Leader: Rules for Remarkable Remote Leadership.
All free and all recorded in case you miss one – all you have to do is register.