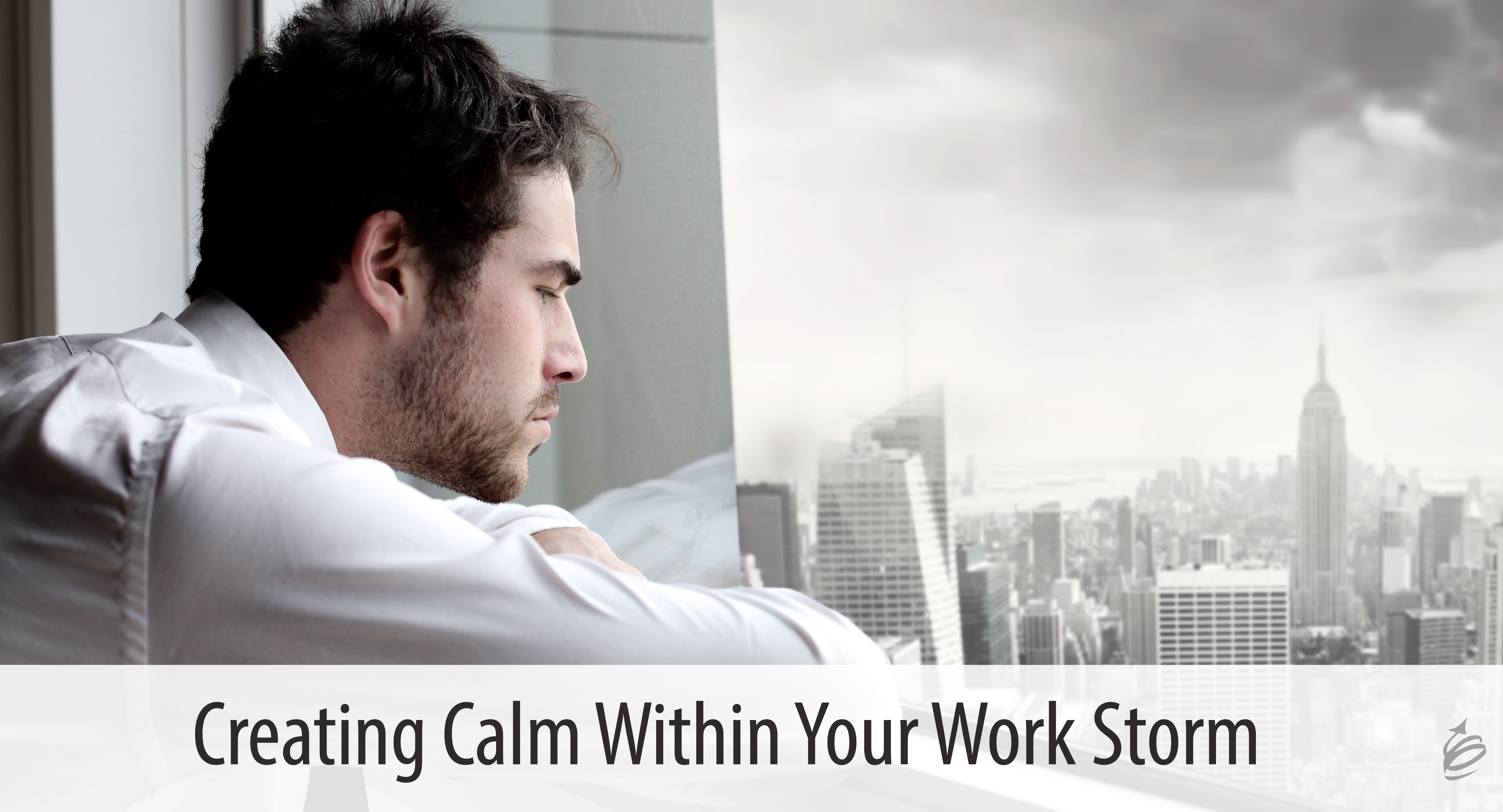 The work of a leader can get harried, rushed, and stressful. The challenge is to not let the stress negatively impact our health, our productivity, or our results. That's why I suggest you find ways to create a circle of calm in the storm and stresses of work and leadership.
When you create a circle of calm, you have a chance to respond rather than react. Here are some quick ideas to help you slow down enough to make better decisions, communicate more effectively, and in general, get better results for yourself personally and in your work.
Creating Your Circle of Calm
Take a deep breath (or two). Breathing helps our physical stress, and taking those breaths gives you a moment to recalibrate your next move.
Stay present. Every storm is easier to deal with when we aren't stewing over what has happened and is past or worrying about what's next. Stay in the moment and you will be better able to deal with any storm.
Ask if your worry is worthy. Let's face it, we create much of the storm we see, and worry is part of it. Is the thing you are worrying about important enough to place your energy into it? And perhaps more importantly, can you change or influence what you are worrying about? If it isn't or you can't, it is time to let it go. If it is important and you can influence the outcome, get to work.
Lower the temperature. Whether in a communication, a project, or situation, be the person who cools things down, rather than spinning things up. In the realm of weather (since we are talking about storms), storms diminish without the energy to maintain or grow them. There is a lesson there for us.
Find a happy place. That could be a physical location where you can refresh and recharge, or it could be a mental place where you can change your perspective. While I am all for vacations, I'm talking now about a "place" you can get to quickly and for free – to deal with the storms of today.
Put it into perspective. Ask yourself, "Will this matter or make a difference in a week, a month, or a year?" Maybe it will, and if so, renew your focus on making the right decisions. And maybe you are making a monsoon out of a sprinkle.
Be a storm reducer for others. This applies to all of us, but especially as a leader. Remember that how we respond to a situation influences how others do too. As you create your circle of calm, you help others do the same. When this happens, everyone wins.
Make a choice. How you respond or react to a situation and the storms you face are in your control. Choose to be, or return to being, calm.
It is likely that at least one of these things you know and have done but haven't made a habit. If that is true, it is time to change that. It is also likely that you just read something you have never tried, or even thought about. If so, and you see how it could help you, give it a try today.
…..
The best leaders are always looking for an edge – to help them do their work more effectively. Hopefully these tips do that for you. If you are looking for a more complete way to build your skills and confidence as a leader, join me for our From Manager to Remarkable Leader learning experience. This two-day session is packed with insights and opportunities to learn from your peers too. Learn more, find dates, and get registered here.