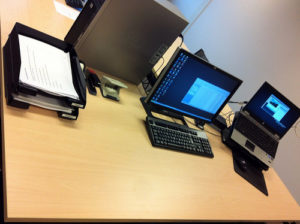 By Kevin Eikenberry, co-founder Remote Leadership Institute
If you are reading these words, it is likely that you have a place where you work, whether that is in an office or from home. And most of you have a place where you work best. The goal of this article is to help you make sure that those places are the same.
If you or your employees work virtually, this advice is vitally important to your success. In fact, taking your working environment seriously could be the most important thing you do to improve your and your employees results and maximize your productivity.
The good news is that if you work virtually, you have control over your work environment, and you and your employees can customize a workspace that meets each of your needs.
First, to get you thinking about the link between location and productivity, answer these questions, and ask your employees to do the same:
In what situations/spaces/environments do you feel most productive?
If your current working location isn't on the list, what keeps it from making that list?
What kind of space do you seek out when you can work wherever you wish?
How much of your time do you work in places where you feel productive?
What could you do immediately (in less than a week) to improve your environment?
Next, take these steps to create an work environment that works for you:
Recognize how important your work environment is to productivity. As a working professional, your productivity is a big part of what you offer your company. Make sure that you are allowing yourself to bring your best self. Think about it: Working from the sofa might be comfortable, but does it allow you to do your best work?
Take advantage of your flexibility. If you are most creative sitting on a blanket in the sun, do it if your boss permits you to work from anywhere. Go where you feel most productive. Just remember that some situations call for a more formal setting (e.g., calls with clients), so alter your location based on the work needs.
Think ergonomic. Adjust your desk space, chair heights and computer positioning to limit the strain you put on your body. A small adjustment can make a big difference.
Feel connected. Decide how you can change your environment so that you feel connected to the rest of the organization. For example, place a picture of the team, an award or a framed note of recognition on your desk.
Leaders, remote employees often do without many of the comforts that in-house employees have easy access to. Encourage your remote employees to evaluate their home work spaces and to send you a list of supplies, furniture, technology and so on that would make them more productive. Ask them to offer a short justification for each request.
Then approve reasonable requests that fit within your budget. Even inexpensive purchases, for example lumbar pillows or an extra monitor, can go a long way toward making employees feel more comfortable, which increases their overall happiness and productivity.